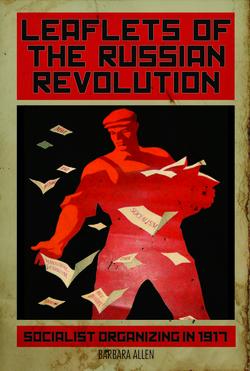 When workers and peasants rose up across Russia and smashed the centuries old Tsarist autocracy their actions reverberated across the world, and continue to inspire activists to this day. This carefully assembled and expertly translated collection of documents from the Petrograd socialist movement in 1917 provides contemporary readers with a firsthand glimpse into the revolutionary ferment as it unfolds.
In Leaflets of the Russian Revolution, Barbara Allen selects and introduces the pamphlets and other agitational material that give life to the debates, disagreements and perspectives that animated the masses during the revolution.
Reviews
"An indispensable collection. These texts, and Barbara Allen's expert curation and explication, bring to vivid life the astonishing tussles, turns and transformations of 1917, Russia's revolutionary year."

—China Miéville, author of October

 

"Authentic human voices are what we hear in these leaflets from the Russian Revolution of 1917. The leaflets, emanating from different socialist parties and workers' organizations, recreate all the vividness and excitement of contemporary debates, while the helpful introduction and notes provide the necessary historical context."

—Sheila Fitzpatrick, author of The Russian Revolution

 

"In this valuable volume, Barbara Allen furnishes all those interested in the Russian revolution with an important collection of political leaflets reflecting the epoch-defining struggle for power in 1917 Russia. Allen's fine translations and insightful introductions add to the value of the collection."

—Alexander Rabinowitch, author of The Bolsheviks in Power

 

"The leaflets, nicely translated, take the reader into the fervent debates between Bolsheviks and Mensheviks during the 1917 revolution. Allen pays particular attention to Alexander Shlyapnikov, a level-headed Bolshevik metal worker who was involved in party and union organizing. She also provides clear, comprehensive introductions to the materials. The result is a collection that goes beyond the party luminaries and into the ranks of lower ranking activists. Most of these materials heretofore have been available only in Russian."

—Barbara Clements, author of A History of Women in Russia

 

https://www.haymarketbooks.org/books/1231-leaflets-of-the-russian-revolu...