Announcement of publication (in Spanish)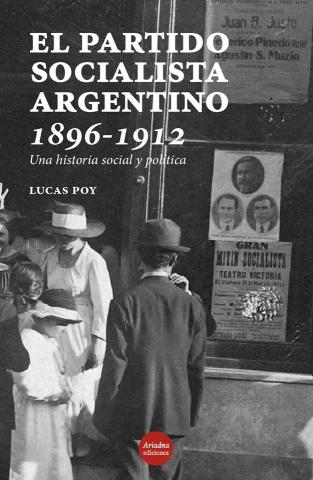 El Partido Socialista argentino, 1896-1912. Una historia social y política
Lucas Poy
Santiago de Chile, Ariadna Ediciones, 2020, 288 páginas
ISBN: 978-956-8416-99-7
Santiago de Chile, junio 2020
Obra bajo Licencia Creative Commons Atribución-NoComercialSinDerivadas 4.0 Internacional.
Disponible en acceso abierto en: http://ariadnaediciones.cl/images/pdf/partidoSocialAr.pdf
"El interés de un análisis histórico de los orígenes del PS reside en la importancia de examinar la primera experiencia de construcción de un partido político obrero independiente, gestada por la clase trabajadora argentina en un período muy temprano de su historia. Es por ello que, si bien dedica una atención especial a las cuestiones teóricas y programáticas, así como a los desarrollos organizativos, este libro no propone una historia puramente intelectual o ideológica, sino que busca entender el desenvolvimiento del PS como parte de la historia viva de la clase trabajadora y de sus experiencias de lucha. Se trata de advertir las características del proceso de desarrollo de la clase obrera en el marco de una economía capitalista, la conformación de sus organizaciones de lucha, y en el contexto de ese desenvolvimiento las características de su vinculación con los grupos políticos activos en el seno de las izquierdas. La pregunta que busca responder este trabajo, en otros términos, es cuál fue el lugar del PS en el proceso de estructuración de la conciencia de clase del proletariado argentino"
(De la Introducción)
Lucas Poy (Buenos Aires, 1981) es doctor en Historia por la Universidad de Buenos Aires, donde también cursó sus estudios de grado. Es investigador del CONICET con sede en el Instituto de Historia Argentina y Americana "Dr. Emilio Ravignani" y del Centro de Estudios Históricos de los Trabajadores y las Izquierdas (CEHTI), además de docente de grado y posgrado en la Universidad de Buenos Aires y coordinador de la Red Latinoamericana Trabajo y Trabajadorxs y la International Association of Labour History Institutions (IALHI), ambas con sede en el Instituto Internacional de Historia Social de Ámsterdam. Forma parte del comité editor de Archivos de historia del movimiento obrero y la izquierda y de Rey Desnudo. Revista de libros, es Corresponding Editor del International Review of Social History e integra el comité asesor de Journal of Labor & Society. Ha publicado decenas de artículos sobre historia de la clase trabajadora y las izquierdas en las principales revistas académicas de la especialidad, tanto en Argentina como en el exterior. Su primer libro, Los orígenes de la clase obrera argentina. Huelgas, sociedades de resistencia y militancia política en Buenos Aires, 1888-1896, fue editado por Imago Mundi en 2014, con una reedición en 2015.