Call for papers, deadline 15 November 2021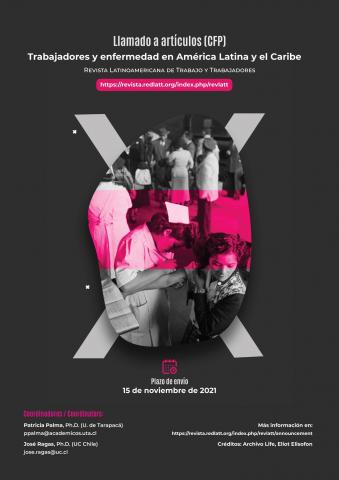 *** ENGLISH AND PORTUGUESE BELOW ***
Coordinadores:
Patricia Palma, Ph.D. - Universidad de Tarapacá | ppalma@academicos.uta.cl
José Ragas, Ph.D. - Pontificia Universidad Católica de Chile | jose.ragas@uc.cl
Las enfermedades (y su correlato mayor, las epidemias) constituyen momentos excepcionales donde las sociedades e individuos asumen riesgos, demuestran su fortaleza y movilizan los recursos necesarios (humanos, materiales y financieros) para garantizar su supervivencia. Los esfuerzos para sobrellevar la enfermedad ponen al sector salud por encima de otros, y con ello los actores involucrados en esta tarea cobran un protagonismo mayor que en circunstancias normales. Así, la actual pandemia del SARS-Cov-2 (coronavirus) ha expuesto, en condiciones adversas, el rol de quienes se encargan de manejar los protocolos de salud y de contener el virus.
Debido a la naturaleza misma de las enfermedades, caracterizadas en ocasiones por su agresividad e incertidumbre, el universo laboral asociado con estas se hace más visible, con el propósito de enfrentar las urgencias políticas, sanitarias, económicas y sociales desencadenadas durante estas crisis. Por ello, junto a los ya conocidos "trabajadores esenciales" (como médicos, laboratoristas, enfermeros, técnicos) se encuentra un universo menos conocido de trabajadores, profesionales o no, como empleados de la morgue, enterradores, vacunadores, exterminadores de plagas, entre muchos otros. Estos últimos conforman un grupo menos visible pero que han cumplido un rol fundamental durante las crisis sanitarias.
El presente dossier invita a investigadoras e investigadores a enviar sus contribuciones sobre trabajadores y enfermedad en América Latina desde 1500 al presente, con énfasis en la perspectiva transnacional o que trascienden el marco del Estado-nación. El dossier busca recoger los estudios que se vienen realizando por especialistas en el campo de la historia del trabajo, la historia de la salud, la historia social y otras áreas afines, donde los actores encargados de combatir, prevenir y contener epidemias y enfermedades endémicas o re-emergentes son el eje central de atención.
Todas las colaboraciones pasarán por una evaluación de doble ciego antes de su publicación. La extensión no debe ser mayor a 9 mil palabras. Los trabajos pueden ser enviados en inglés, portugués y español. Las contribuciones deben ser enviadas a ppalma@academicos.uta.cl y jose.ragas@uc.cl (con copia a revista.redlatt@gmail.com) hasta el 15 de noviembre de 2021.
***
Call for Papers (2022): Workers and Disease in Latin America and the Caribbean
 2021-06-28
Coordinators:
Patricia Palma, Ph.D. - Universidad de Tarapacá | ppalma@academicos.uta.cl
José Ragas, Ph.D. - Pontificia Universidad Católica de Chile | jose.ragas@uc.cl
Disease and epidemics constitute exceptional moments, where societies and individuals assume certain risks, demonstrate strength and divisions, and mobilize human, material, and financial resources to secure their survival. The efforts carried out to overcome disease place health over any other aspect of human life, hence the actors involved in this task receive more visibility than in normal circumstances. Therefore, the current SARS-Cov-2 pandemic has exposed, under adverse conditions, the central role of those who manage health protocols and are responsible to contain the virus.
Due to the nature of disease and epidemics, often characterized by their aggressiveness and uncertainty, the constellation of jobs associated with them has expanded to confront political, sanitary, and social demands unleashed by this particular crisis. Along with the well-known "essential workers" (i.e., physicians, nurses, technicians, laboratory assistants) there is a lesser-known constellation of workers, not always professionally trained, such as undertakers, grave diggers, vaccinators, pest control operators, among others. Despite the crucial role of the latter in fighting against epidemics, their contribution remains obscured.
This dossier invites scholars to submit their essays on workers and disease in Latin America. We aim to highlight the current research on this topic by scholars working on perspectives such as, but not limited to, labor, health and disease, gender, economic history, and social history. We also aim to stress the role of health actors (broadly defined) and situate them at the center of the analysis, to understand how they fought, prevented, contained, and were exposed to diseases and epidemics in the history of Latin America.
 All the papers will go through peer-review prior to their publication. Length should be no longer than nine thousand words. Manuscripts can be submitted in English, Portuguese, and Spanish. Contributions should be sent to ppalma@academicos.uta.cl and jose.ragas@uc.cl (with a copy to revista.redlatt@gmail.com) by November 15, 2021.
***
Chamada de Artigos (2022): Trabalhadores e doenças na América Latina e no Caribe
 2021-06-28
Coordinadores:
Patricia Palma, Ph.D. - Universidad de Tarapacá | ppalma@academicos.uta.cl
José Ragas, Ph.D. - Pontificia Universidad Católica de Chile | jose.ragas@uc.cl
As doenças (e seu principal correlato, as epidemias) são momentos excepcionais em que sociedades e indivíduos se arriscam, demonstram sua força e mobilizam os recursos necessários (humanos, materiais e financeiros) para garantir sua sobrevivência. Os esforços para o enfrentamento da doença colocam o setor saúde acima dos demais e, com isso, os atores envolvidos nessa tarefa assumem um papel maior do que em circunstâncias normais. Assim, a atual pandemia do SARS-Cov-2 (Corona vírus) expôs, em condições adversas, o papel dos responsáveis pela gestão dos protocolos de saúde e contenção do vírus.

Devido à natureza das doenças e epidemias, muitas vezes caracterizadas por sua agressividade e incerteza, a constelação de empregos a eles associados se expandiu para enfrentar as demandas políticas, sanitárias e sociais desencadeadas por esta crise específica. Junto com os conhecidos "trabalhadores essenciais" (médicos, enfermeiras, técnicos, auxiliares de laboratório) existe uma constelação menos conhecida de trabalhadores, nem sempre profissionalmente treinados, como funcionários mortuários e funerários, coveiros, vacinadores, operadores de controle de pragas, entre outros. Apesar do papel crucial destes últimos na luta contra as epidemias, sua contribuição permanece obscura.

Este dossiê convida pesquisadores a enviarem suas contribuições sobre trabalhadores e doenças na América Latina. O dossiê busca reunir os estudos que vêm sendo realizados por especialistas da área de história do trabalho, história da saúde, história social e outras áreas afins, onde os atores responsáveis pelo combate, prevenção e contenção de epidemias e doenças endêmicas ou ré emergentes são o eixo central da atenção.
Todas as contribuições passarão por uma avaliação duplo-cega antes da publicação. A extensão não deve ultrapassar 9 mil palavras. Os artigos podem ser submetidos em inglês, português e espanhol. As contribuições devem ser enviadas para ppalma@academicos.uta.cl e jose.ragas@uc.cl (com uma cópia para revista.redlatt@gmail.com) até 15 de Novembro de 2021.